It's a book about Mythology, History, Biology, Biochemistry, Wine Making & Viticulture and above all, it is a Treatise on Champagne therapy as an alternative, when taken fluteful a day. The book written by Drs. Tran Ky and Francois Drouard is an effervescent tribute to champagne, says Subhash Arora who reviews the book translated into English by Reginald Duquesnoy and published by Savoir-Boire Ltd.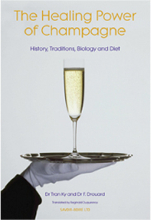 Doctors may take this book with a pinch of salt (or a glass of champagne) for the book commends Champagne for its medicinal value to cure various common maladies. Like any other alternative medicines, if you put your complete faith in these two champagne smitten doctor- authors, champagne will cure you of many medical problems.
The book is a smooth and effervescent read with a lot of humour thrown in. But for being a bit gross here and there ( are they being French?) it is a light reading, taking one through the history and various wine loving personalities with quotes sprinkled here and there along with some beautiful lithographs adorning the text.
Though it recommends only a flute a day, it seduces you to finish reading it all in one sitting, like the whole bottle in one evening- just like I felt compelled to.
It has dedicated individual chapters on Stimulation of Desire, Obesity, Loss of Appetite, Arterial clogging, migraine headaches, insomnia, drugs, gynaecological troubles, gerontology and ageing, food allergies, constipation, indigestions and more, giving you tips on how Champagne helps you to get rid of your physical misery
The generous use of Moet Chandon bottles in the photographs leaves an impression that it was sponsored by the monolithic giant and the market leader, if it weren't for the last page of the medical section of the book which shows the picture of a Pol Rogers bottle and Winston Churchill's back with his famous quote, 'Remember, gentlemen, we are not just fighting for France, we are fighting for champagne'.
A third of the 156 page book in hard-cover has been allocated to Documentary Annexes like the grape variety, vine and mushrooms, the magic of yeast and some organoleptic considerations.
The section talks of some commonly known facts like the vine needing three years to start giving fruit and ten years to reach full capacity or that Chardonnay grown in Chablis and Champagne is three quarters of the total quantity produced in France.
These are supplemented by lesser known facts like Pinot Meunier being so important component in the ideal French ménage-a-trois that it is a global object of intensive study, especially in California where the Oenological Institute nurtures the dream of producing a great 'champagne' one day.
The language used is very floral, with earthy notes. Did you know that 'The vine plant has to co-exist symbiotically with invisible mushrooms which take up the nutritive elements like phosphorous and mineral elements like zinc, copper and magnesium, in the soil and pass them to the vine?' These hard working mushrooms are also far-sighted, say the authors. They build a permanent reserve of these important minerals in their cells. In case of drought or deficiency, it is they who feed the vines with their stores.
The gist of the whole book is that one flute a day is cure for most of the ailments mentioned above; and more is not advisable. It compares this 'medicine' with homeopathic medicines which are therapeutic for a wonderful cure when taken in small doses but can be very harmful if taken in stronger doses.
The book is highly recommended for doctors and patients who also believe in alternate medicine, wine producers and connoisseurs alike. The Technical part is reserved for winemakers, viticulturists and serious students of wine.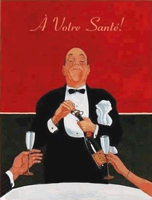 By the end of the book, you may switch from wine to this bubbly nectar for medical reasons. And you may want to shift your existing Champagne bottles from the wine cellar to the medicine cabinet.
Do make sure it has a storage temperature of 13-16° C.
The book should be a fabulous gift idea for Moet& Chandon to promote their wine, though Pol Roger might be delighted to gift it to the corporate honchos and important customers too. It may be ordered from the publishers in UK directly at £25+shipping by visiting their website www.savoirboire.co.uk.
A Votre Santé. To Your Health.
Subhash Arora
The Review is a follow up on our earlier Article; 'Champagne might Protect Brain Cells from Injury' at http://www.indianwineacademy.com
A significant number of Indians refrain from drinking Champagne claiming it gives them headache. Many of these are not even allergic to Sulphur , which is a cause of headache for such people. I posed this question to Reggie Duquesnoy for his opinion. His reaction was, 'perhaps these people are drinking sparkling wines and not Champagne, the production of which is severely regulated and controlled.'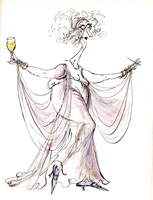 'There are some pretty decent sparkling wines made in other regions of France, or Spain and Italy but none can aspire to the quality of champagne ( which is not to say that all champagnes are good and well made, some craft their product better than others),'he added.
'Many of the latter add sufites to their product to stabilize it and
prevent it from becoming vinegar.'
Even champagne can provoke headaches, he concedes. 'if you drink too much. But then it is the excess alcohol, not the champagne which is the trigger. If you read the book from the narrower therapeutic angle, you will have seen that our leitmotif is a glass per meal. That is the medicinal dose. For the more traditional convivial practice, 2 glasses per woman, 4 for a man have to be considered as the asymptotic limit... and not everyday of course.'
I am not sure if the reply answers my question satisfactorily, but generally speaking if you follow the advice of drinking in moderation good quality champagne, you should remain safe, sound and healthy, as he also recommends.