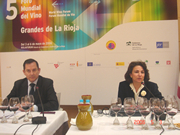 A group of 35 wine journalists from around the world including 10 in Spain had a taste of a wide spectrum of wines from Rioja when the Regional government of Rioja region organised the 4th edition of the bi-annual Grandes de La Rioja 2006 at the Riojaforum in Logroño, the capital city of Rioja from 3-6 May.
The programme included a 2-day tasting of about 120 Riojan wines including whites, Rose` and a few sparkling wines too. The 4-day event also included extensive 2-day visits to several vineyards that included Vinicola Riojana de Alcanadre, Bodega Breton, Marques de Ca`ceres, Bodegas San Vicente, Bodega Muga, Bodega Bilbainas, La Rioja Alta, Castello di Salazar, Dinastia Vivanco, Bodegas Franco-Españolas, the organic wine producer Ruiz Jimenez and the latest jewel to the Riojan crown, Bodegas Roda.
Grandes de La Rioja is not like a competition where the wines are tasted for ratings and awards. Rather it is to inform and educate the participants about the variety and choice available in Rioja. The wines tasted were from La Rioja region, which has about 70% wines of the D.O.C. Rioja; the balance 30% being equally divided between the Basque and Navarra and were not part of the tasting.
The programme organised by the Agricultural Ministry of the region invites all wine producers of the region, about 300 of them to taka part in the programme every two years. 120 labels including the ecological, organic wines were tasted. A wine tasting glass was designed specially for the Event in 2000 when a competition was orgnised. Known as the Rioja Glass it has ain intersting base maing it eassier to hold, though making it slightly heavy (see Gallery)
Rioja conjures up the image of red wines with Tempranillo as the major grape; Granacha is also used in the lower Rioja where it is hotter. Whites are made using Viura (called Macabeo in other parts of Spain ), with Malvasia as the blending grape. Whites are considered mostly quaffable at best, though Riojans are proud of their whites and are experimenting to change the quality and image. Reds are long aging due to the characteristics of Tempranillo.
I found it an inherent quality of Tempranillo that the wine can be quite tart.The first attack on the palate in many wines is acidic; once it wears thin the fruit comes into play. I asked several producers and wine writers the reason. The only common thread I found was that it makes their wine good for aging. That was not satisfying answer for me, especially as I was lucky enough to find at least half of the tasted wines were only slightly high on the acid but were better balanced and a few were simply divine. Almost all wines had high alcohol content though that did not interfere with the flavour. It made some of them big and bold. All Riojan reds have beautiful legs.
Based on my tastings, I have selected 5 reds and 5 whites which have got good ratings and are also lower in prices. This is an important factor for the Indian market. The price range of wines tasted was from 2.3 Euros to 140 Euros in Spain. I kept an upper limit of 8 Euros while rating. There were several wines in

and better categories where none of the whites reached

.
Red Wines Pick:
1. Azabache Crianza Ecologico 2002 Viñedos de Aldeanueva Alc. 14% 5.00 Euros
60% Tempranillo, 30% Garnacha and 10% Graciano. Dark red, fruity with spicy aromas and balanced acidity, sweet vanilla taste, good mouthfeel with fairly long end. If you are a red wine fan this will go well with Indian food too.

2. Dinastia Vivanco Crianza 2001 Bodegas Dinastia Vivanco Alc. 13% 7.80 Euros
Cherry red colour with orange hue, spicy aroma of cinnamon, velvety texture, rosy flavour and a medium end, this is a delicious food wine. A glass of this wine as an aperitif would always be welcome.

3. Largo Plazo Reserva 2001 Bodegas Jer Alc. 13.2% 8.00 Euros
Dark Cherry red colour with subtle aromas, Elegant and balanced wine that should get better with age.

4. Taron Reserva 2001 Bodega Coop. Nuestra Señora de Valvanera Alc. 13.2% 5.70 Euros
90% Tempranillo, 5% Mazuelo, 5% Graciano- the typical Riojan Blend. Dark cherry colour, brilliant. Dry, balance with good structure, lovely legs too, medium after taste.

5 Chaval 2004 Bodegas Pedro Y Jaime Martinez Prado Alc 13.5% 4.00 Euros
Light body, young wine, almost like a Beaujolais Nouveau, Rose aromas, soft tannins, fruity, new style of wine with simple after-taste. should go well with Indian food. Best value for money wine

White Wines Pick:
1. 1. Tremendus 2005 Bodegas Honorio Rubio Villar Alc. 12.8% 3.00 Euros
100% Viura from 40 year old vines. Traditional method of winemaking. Light yellow, slightly bitter after- taste, simple daily drinking fresh and crisp wine.

2. Blanco Fermentado en Barrica 2005 Bodega Muga Alc.13.5% 7.40 Euros
90% Viura, 10% MalvasiaLight yellow with green shades, light body, clear and clean dry wine. Well perfumed. Very crisp but good balance, good mid palate feel, if you can handle the initial acid, Delicious wine with fair after taste.

3. Blanco David Moreno 2005 Bodegas David Moreno Alc 13% 4.00 Euros
100% Viura, light straw with pronounced green tinge, clean Medium body wine. Definite hints of tropical fruit in the intense aromas. Dry with citric flavour and reasonable mid palate and end.

4, Pedro Martinez Alesanco 2005 Bodegas Pedro Martinez Alesa. Alc. 13.8% 5.00 Euros
100% Viura. Straw yellow with green tinge, subtle spicy aromas, citric flavour, dry and fresh, slightly bitter on the mid-palate, medium after taste,

5. Aradon Blanco 2005 Vinicola Riojana de Alcanadre So Co Alc 12.64% 2.30 Euros
100% Viura. Straw yellow colour with green shades, light body with subtle Citric aromas with notes of peach, citrous flavours, tart and acidic, refreshing But only as an aperitif.

Best Tasted Wine
Cirsion 2004 Bodegas Roda Alc 14.5% 126 Euros
Dark inky colour, full body. Defies all laws of winemaking in Rioja. Big, powerful, well extracted good structure and balanced wine with rounded and ripe tannins, fruit flavours of berries and chocolate, long end. Drink now but will get better with age. Wine to be enjoyed and not analysed.
<Price is unusually high but when you are frequently selected as one of the top wines of Spain , you have to get your pound of flesh especially when the Americans with deep pockets are in love with you –editor>