Sparkling wine produced in Spain , known as Cava is the biggest selling sparkling wine in the world, displacing Champagne as the top spinner. Agusti Tornello` Mata crafts some of the best Cava in Spain as Subhash Arora discovered during his recent visit to Alimentaria 2006 in Barcelona.
It was my first day at Alimentaria and was vining my way through the pavilions of various exhibitors. The re were participants from every province of Spain . It did look as if there was more participation from Catalunya, Rioja, Ribera del Duero, Navarra. Cava producers were also quite prominent. More than 90% of Spanish Cava is, after all, produced within 40 kms of Barcelaona, in and around a small town called Sant Sadurni d'Arnoia which also houses Freixenet. Suddenly, I found myself in a big-sized, three-sided pavilion displaying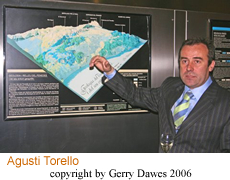 'Agusti Tornello` Mata'. Shaped like a four-cornered bar in the middle, it had 3 persons in the pit, pouring out th e bubbly to a large group of people who seemed to be enjoying the party. A charming girl behind one counter in the corner was busy churning out platefuls of muscles which were evaporating as fast as they were coming to the 'bar'. I had to go in and check this one out.
I asked the lady who served me a glass of Brut Natural e (the driest bubbly with practically no sugar, resulting by adding no sugar dossage; it is drier than Brut we are accustomed to in India) why there was a big celebratory party going on here when things seemed to be relatively quite and more formal and business-like elsewhere in Intervin – the wine related section of the Alimentaria, full of Spanish wine producers.'They are our friends and clients, said the lady introducing herself as Gemma Tornello`, a lawyer and the eldest sister of the Tornello family. ' They are mostly from the restaurants in Barcelona , buying from us regularly,' she added.
Agusti Tornello, the eldest of the four siblings was introduced to me as the brain and enologist of the excellent Cava producing family which started producing Cava about 50 years ago. Senior Agusti , the founder has been traditional only in sticking to the local variety of Cava grapes- Macabeo, Xarel-lo and Parellada. Otherwise, h e has been very modern and pro-active in his wine-making techniques. He even designed a unique torpedo looking bottlelike a bowling alley pin for better safety at higher pressure inside the bottle for one of their labels . The patented bottle was designed in 1979 for their premium Cava, Krypta and is still probably the only bubbly bottles so shaped. .
Unlike Champagne where the winemaker's job is to blend wine from different vintages depending upon the climate, thus maintaing same flavours despite the vagaries of nature, Cava is made from the same vintage and the variation between different vintages is not significantly different. The Tornellos pride themselves in keeping up the fineness of the product by growing the best grapes in their prime vineyards where the irrigation is totally forbidden. What's more, they use only 40% grapes for their production, selling off the rest to other local Cava producers.
The ratio of grapes used is 40% Macabeo (for body and structure), Xarel-lo(20%) for body and structure and rest is Parellada for fruit and acidity. It is grown at the highest points of the wineyard, at an average height of 500-900 meters where the exposure to the Sun is maximum. Macabeo is grown closest to the sea.
The fine quality Cava is lapped by the upper-end restaurants; there are over 200 restaurants where you can find one of their labels next to the fine Champagne, both in terms of price and quality. The Cava sells 5-10 times more expensive than the popular Freixenet basic lable- Cordon Negro Brut. But the difference is well worth it, considering the elegance and finesse of the wines.' We do the disgorgement (removing the sediments from the neck of the bottle) just before the time of dispatch to the customer in order to maintain the elegance to the maximum, explained Agustine during a trip through the cellar . He was assisted by his younger sister, Lali Tornello who you would need to deal with if you were to import the beauty into India.
'Main grape varieties used are Parellada which provides a creamy soft body, Macabeo is used to provide Crispness and acidity. Xarello helps in structure and complexity' says Lali, translating what Agusti has just explained to a group of Spanish speaking clients visiting the Cellar. The Brut is soft , creamy, crisp and bone dry but with gentle and tangy fruit. She also explains that 'DO Cava is not a geographical appellation like the rest of the Spanish wines although 90% of the whole country's consumption is perhaps in the small city of Sant Sadurni'. G rapes are grown all over Catalonia and may be blended from different areas so long as they come from registered vineyards' she explains. Indeed, ' DO Cava has been granted to certain towns in Navarra, La Rioja, Arag`on and the Basque country ,' she adds.
All Cava must be produced by 'Methode Champenois' known as metodo tradicional; the former may be used only by the wine produced from designated grapes in Champagne only. The process implies doublee fermentation in the bottle by putting in yeast and liqueuer de tirage and storing in the bottle, thus building up pressure inside due to release of carbon dioxide.
Indeed, Agusti Tornello makes one of the finest Cavas in Spain.' We use technology and quality of grapes to aim for an excellent product during each vintage. The slopes near the river are used judiciously to grow grapes with highest quality , ' explains Agusti proudly to visitors to the cellar. The unique, torpedo style bottle with an oval shaped base makes it look like a bowling ally pin and is sure to be a point of discussion for a few minutes in any party. It certainly does at the Tornello cellar and their residence filled with artifacts that include a beautiful fountain using the inverted bottles and even ash trays made by cutting the bottle into two halves by a local designer working in glass.
His passion as a winemaker cannot be easily translated from Spanish into English language by his younger and charming sister, Lali Tornello who handles the office and the international buyers because of her good command over English language- she is the official interpreter of the company.
The wine that catches your attention instantly is Kripta. Named after the Latin word Kript which means the hidden seat of treasure, it is very crisp, fruity and very elegant with tiny bubbles tingling in your mouth for a long time and the persistent after taste asking for more after each sip. Not only that, it goes very well with most food s . Indeed, as the evening dinner at the Cellar one evening demonstrated you can have a 5-course meal with different styles of Cava, if it is of fine quality as Agusti Tornello's .
Incidentally, t he biggest Cava producer is Codorniu, followed by Freixenet which is the no.1 Cava seller in India because of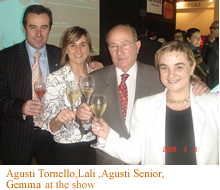 its reasonable price and easy drinkabilty. The two have different philosophy of cava making. Former , the more innovative and controversial of the two, introduced the use of Chardonnay, initially in the wineries it had bought and later in its own wines in Sant Sadurni d'Anoia where all these three producers are located. While Codorniu claims Chardonnay add s body and depth, Freixenet staunchly opposes the concept , and insists on using the local classic white grapes, namely Xarel-lo, Macabeo and Parellada. Agusti also points out that Chardonnay in Champagne has its own unique acidic character due to the climate and it cannot be duplicated and 'why should we not keep the local character of our bubbly when we can produce such fine quality with these grapes,' he exclaims emphatically. Cava traditionalists like him also oppose using a red grape like Pinot Noir for white Cava.
The quality comes at a price , they say. Agusti Tornello is no exception. People in this part of the world love to drink Cava any time of the day. A glass of Cava can be ordered for 2euros. But not this label. In fact, it stands on its own, next to some fine Champagnes as I noticed in many of the restaurants; the finer ones stock this Cava, more than 200 of them in Barcelona alone. Kripta, for instance, comes for about 40 Euros, more than many popular Champagnes .
But, if you love premium Champagne or fine bubbly, this is a Cava you can cave into
Subhash Arora