When Vinay Arora and Asha Chaudhry decided to gallavant through Australia , they ended up far away from the touristy sites of Sydney & Melbourne and to their delight, in the heart of wine country - in Barossa Valley, near Adelaide. Here is their travelogue.
Our new found friend, a senior Physics professor from Cambridge winked at us, and proceeded to pour himself to a rather large portion of the red wine on the bar. Unfortunately before he could put poison to lip, a rather burly hand appeared and as gently as it could, explained, I am sorry Sir but I will have to take that wine glass away. But why, said all of us in unison? Aren't we wine tasting? Can't we help ourselves? The host obviously used to this request pointed to the sign on the wall which politely reminded us to wait for a staff member to pour us the wine, and hinted at the nuances of wine tasting as contrasted against wine drinking.
You don't have to go to France , Italy , Spain or California to experience the true pleasure of wine drinking. A day or two in pristine Adelaide is enough to ensure you have some pretty heady memories for the rest of your life. All you've got to do is take your pick from any of the many wine tours to the Barossa Valley, Australia's most famous wine making region. A trip some wine connoisseurs describe as a pilgrimage. We decided on a day tour offered by Enjoy Adelaide; and Markus, the driver-cum-guide, with his Aussie sense of humour, makes sure the tour is 7 hours well spent.
You start the day with an early rise and shine routine, but it's in your interest to make sure you keep your eyes wide open. The beauty of the wine tour lies not just in the wine s but also in the drive. For Barossa, the region groomed by 500-odd grape growing families (many sixth-generation), offers you a breathtaking landscape marked by manicured vineyards, grand chateaus with splendid gardens and local produce markets. As you pass small and big wine ries you'll find yourself waving at the friendly wine makers who would gladly share their ancestors' stories and secrets with you over their exquisite wine.
Our first stop turns out to be The Toy factory at Gumeracha – a spot you can't miss for what marks the place is an 18 meter tall wooden rocking horse; actually The World's Biggest Rocking Horse. It's a good idea to get off, stretch your legs, and head for a quick tour of this unique family-run wooden toy factory. The giant rocking horse was specially commissioned by the owners of the toy factory and it does serve its purpose, attracting every visitor to wine country to have a peek in. The good part is there is no obligation to buy anything – you can browse around, and then head for the adjoining café to catch a bite and some hot coffee. (Frankly, take our advice; forget the coffee, as you don't want anything to come between you and your wine ideally).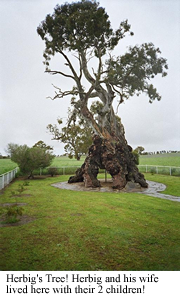 The bus next stops at Herbig's Tree; it's recorded in history that Johann Friedrich Herbig arrived in South Australia from Bremen on 3 October 1855and lived in the base of a very large gum tree which was located on his own land!
From here, the drive gets even more interesting. You're tempted to give the tour a miss and instead get off at a lovely little township on the way, nestled in the woods. Welcome to Tanunda. This picturesque region owes much of its appeal to the European farmers who settled here in the 1840s. You can spend a day or two here at a restored settler's cottage, a resort suite, a luxurious country house or a shady caravan park, doing your own food and wine tour. Every corner of this quaint town will give you a taste of the settlers' rich cultural legacy – be it in the specialty foods, historic architecture, art & antique galleries or year-on events and festivals.
Meanwhile Markus (inspired by his Drew Carey-like appearance) is unstoppable. His witty commentary promptly brings you out of your reverie. He likes to surprise you with bits of information every now and then. Adelaide , as we now know, is home to a large number of German and Italian immigrants. However when it comes to wine making, the honours are shared equally between these immigrants and the local Aussies, who know a thing or two about grapes…. As we dwell on these facts, we make our second halt of the day – at Angas Park . The Angas Park Fruit Company was established in 1911 and is today one of the most successful dried fruit companies in Australia . The store, we thought, had the largest range ever of dry fruits, nuts and chocolate-coated dry fruits.
We also realise that this is our cue for an early luncheon, as we cross the road to the amenable spread laid out on a large table which seats our group of 12. Lunch turns out to be platters of Virginian ham, salami, smoked kangaroo, crisp salad, cheese, olives, fresh bread, hot chicken wings and wedges, gourmet pizza, fruit and cake. But we were on a mission; so not surprisingly 15 minutes later, with a deep sigh, we wash down our delicious lunch with water, and hope fervently that our guide hasn't forgotten the real purpose of this tour.
Reassuringly enough the coach drives into the first wine ry in Tanunda: a Martin family affair called Chateau Dorrien. We take-in the surroundings (it's our first wine ry so we're both excited as well as sober!): a line of tall palm trees that beautifully dot the property, eight concrete castle-like vats that create a grand entrance to the historic building... Chateau Dorrien's cellar-door, Markus dutifully informs us, was built in 1912. And then he leaves us at the bar, with a breezy "See you in 20 minutes"; that's his way of saying drink as fast as you can – after all, we've got three more wine ries to visit.
There's not much to do actually at any wine ry, a hello, how are you opening, followed by lining up at the bar (like thirsty schoolchildren at the school fountain during recess), and off you go: white, yes white. Riesling or Chardonnay. Whatttt ok Chardonnay. The 1999 or the 2002? Enough, the Punjabi in you wants to shout, give me the bloody wine , the coach leaves in 20 minutes, but all this is part of your learning process. All around you this wine anthem is in full swing: hmmm the Shiraz is mellow, and now may I have the Cabernet Sauvignon please … the bronze medal winner? How bout this Rose'? And the Sparkling Blackcurrant? Sip, sip, wish you could have more, but then don't you want to sample one of the special ports? You most certainly do! Mind you there is no cheese to go with the wine , you are merrily tasting wine after wine , oblivious to the world around you. And should you wish to buy what you are drinking, it costs you but a fraction of what you pay in liberal India . A good bottle of Australian wine can start anywhere from Aussie $10 and go up to – there are never any upper limits in this game of connoisseurship but it's the $10 figure we always remember. And it hurts, when waiters in India sidle up to you and in hushed soft undertones ` recommend' the same brand and vintage for Rs. 1500 plus taxes (almost 5 times).
They save the best for the last – their unique mead (honey wine ). Chateau Dorrien is the only place in the Barossa Valley that produces mead. One of Fernando Martin's special mead creations is scarlet, a beautiful chocolate and cinnamon honey mead. This is served hot and is the perfect desert accompaniment.
The coach driver's calling out to us to start off on our next destination but he will have to wait: our new found friends are carting wine by the dozens. Finally we are off, admiring the aligned rows and rows of grapes, the life inducing sprinkler systems and the serene hills in the background.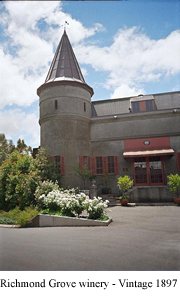 The drive is short and before we know it, we enter the gates of Richmond Grove, our second wine tasting halt for the day. The difference between this and the earlier place, you may ask? The idyllic surroundings , the layout, the entire romance of each wine ry is different, and you will love this difference in ambience as you become a veteran of these voyeuristic voyages. Moreover each wine ry has a unique story to tell. Like the black hawk weather vane seen on top of the Richmond Grove copper spire which signifies the Richmond Grove philosophy of travelling to all areas of Australia to source the best grapes to make the best wine s.

At Richmond Grove we are shown around the wine ry established in 1897, and it's quite an adventure, what with creaking doors, rumours of ghost sightings in the hallowed halls. We are lucky enough to see the wine master at work. Back to the bar, (yes, it always ends there, doesn't it), and the anthem starts again: but this time around we are wisened up: all of us in chorus chime in, we will start with the white(Chardonnay), move on to the Riesling , then the red ( Shiraz ), at this point our hostess bursts into laughter. She's never seen such a show of bold familiarity; she has to endure maybe 10 such wine maniacal groups everyday. The learning of course goes on as this happens to be the tutored wine tasting session on the day's itinerary. So we are taught everything right from how to shake your wine glass holding the stem (while placed firmly on the table, of course), to how you swirl the wine in your mouth and blow out through your partially opened lips to placing a white sheet of paper against the wine glass for an accurate colour check. Phrases like full bodied, full flavoured, woody, more mature, fine oak tannin, crisp finish, become part of our new found vocabulary.
We are fortunate to sample their limited release range: the acclaimed Watervale Riesling and Barossa Shiraz. Their Icon range (French Cask Chardonnay, Cabernet Merlot and Verdelho) sent our novice taste buds into a wine frenzy. Most of us who associate Pinot Noir with California (thanks to the movie Sideways), were pleasantly surprised when we sipped their Chardonnay Pinot Noir. It had the lively fruit of the Chardonnay grape complemented by the flavour and character of Pinot Noir, producing a stylish wine .
Again, a lot of hemming and hawing as everyone loads up on the one carton free with 2 offer, and the coach now looks like an overloaded Haryana Roadways bus. While all of us can think clear, walk clear, yet we are enjoyably wandering off into wine induced happiness. You can feel it, and while you tend to brush it off, two ladies in our group make the epitome sacrifice for their happy husbands: they pledge not to drink anymore. The reason is that they will be driving around Adelaide later on in the evening so they need to go slow. The husbands meanwhile don't seem to mind and insist they are as fine as a fiddle.
At this very moment, the coach glides majestically into the Jacob's Creek Visitor Centre which sits on the banks of Jacob's Creek. This is the mother of all wine ries as far as we are concerned, it stretches for miles and miles - the reception and the bar are almost like the ones at a luxury hotel. Here, we get a highly educative session into the intricacies of wine s – what goes well with what cuisine, and demos on what is a fruity white vs a wooden white and so on. And yes we walked away very happy after tasting (and purchasing) a variety of both the Jacob's Creek and Orlando fine wine ranges.
The gallery display too is educational. It not only describes the history of the Barossa Valley , the 150 year old he rita ge of Orlando wine s and the success of Jacob's Creek, but also gives visitors a greater understanding of wine production techniques.

The mind boggles, you look at your watch, realise its only 3pm , and kind of wonder if you will be able to endure another wine encounter. The last one is at Chateau Yaldara, which is a boutique kind of wine ry. We discover to our inebriated amazement, not only are the flavours and names of the wine s here different (pineapple-passion fruit Sauvignon Blanc, Julian's Petit Verdot, Barossa Grenache), even some of the wine bottles are works of art. It's a little late in the day though; by now we were quite wine d out. Some cheese with the wine would be good, but we haven't got time for all that, Markus reminds us. Buy your wine first, pick up the best cheese of the Barossa from Yaldara's Cheese Room (Ballycroft washed rind cheese from Greenock, goat cheese from Woodside Cheesewrights, creamy camembert from Kangaroo Island), and you can have a nice candlelit dinner back in Adelaide. By the way, the next door is The Larder if you're looking for food accessory gifts like specialty olive oils, sauces and preserves.
After that not so modest consumption of wine , it was time to be romantic all over again (which was, of course, asking too much!). For it was time to 'whisper sweet nothings' - no, not in your lover's ears, but across The Whispering Wall. Built in 1902, this engineering wonder is located just outside the quaint little town of Williamstown . The wall, which appears perfectly innocent, is a perfect ellipse which has unique acoustic effects that allow sound to travel long distances. So words whispered ever so softly at one end are actually heard 140m away at the other. A rather acoustical tipsy way to mark the end of an unforgettable day!
Back to the coach, and we are all dozing off, some like me snoring away to glory, horrifying my wife, who does what any self respecting spouse would: she forces some more wine down my gully. It works and peace restored, we are dropped off at the center district of Adelaide. We make quite an intriguing sight, all of us, scrambling to hold on to the cartons while negotiating the treacherous rainy sidewalk.
Come back tomorrow, our friendly coach guide calls out, "we will go to the new $5 million Wolf Blass Visitor Centre" We pretend we haven't heard this invitation and get into the first cab we can find and run for our lives.
A few facts:
Barossa Valley is just an hour's drive from Adelaide
First to arrive here were German immigrants (in the 1840's)
Today this picturesque region exports wine all around the world.
There are quite a few cozy cottages nestled in these hills where you can spend a
picture postcard weekend, wining & dining
You may contact the writer at vinay.fiji@gmail.com