The much hyped news about Prince Charles using fuel made out of the English surplus wine for his Aston martin sports car may have provided hope for some of the Nashik wine stored in tanks with nowhere to go, opines Subhash Arora

There seems to be an exponential growth in studies which claim that wine is good for health- some even discovering that even white is as good as red. But the bio-fuel made from surplus wines can also reduce carbon emissions and costs 10% less.
Prince Charles, known for his love for British agricultural products is reportedly using bio-ethanol produced from surplus English wine for his Aston Martin., a 21st birthday present from his mother, the Queen of England.
Aston Martin managers contacted Gloucester-based Green Fuels for help with the job and the company bought in 8,000 litres of surplus white wine from a vineyard close to his estate and ran it through their distillery. The biofuel costs $2.20 a litre, but its net output of CO2 is 85% less than normal petrol as the gas is absorbed during the growing process of the vines. The process also uses up whey, the waste product in cheese making.
The news did not please the English wine producers, who claim there is no surplus. Prince's office also confirmed, 'The wine used was a waste product which was unfit for human consumption as it had been in storage for too long.'
A wine surplus exists because vineyard owners can't bottle more than their EU quota, so they sell it to Green Fuels of Gloucester to convert to bio ethanol.
Thousands of other Britons are set to follow the Prince in converting their petrol-run cars to use bio-ethanol. Green Fuels is braced for a rise in demand as petrol prices sky rocket.

"Because the Prince of Wales has done it, that brings awareness that this can be done," he said.

"He really only uses his Aston Martin in the summer on a few occasions so we've only supplied something like 400 or 500 litres of it but my understanding is he's very pleased with the results."

Charles, who has campaigned for more than 25 years to highlight the dangers of global warming, had to have a slight mechanical change made to his classic gas guzzler
http://www.express.co.uk/posts/view/50766/How-wine-and-cheese-powers-Charles-Aston
Lessons for India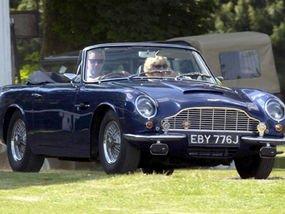 This could help solve many of our problems with high rise in the fuel costs and also reduce the pollutants. A government official in Maharashtra recently stated that 21 million liters of wine was produced in the state which produces slightly over 90% of Indian wines. With the total consumption pegged at about 12 million liters and the total production estimated at 23 million liters, there is an apparent surplus of 11 million liters, mostly in the tanks, at the moment.
There should be an estimated half million households storing an average of 3 bottles which due to poor storage have become vinegar, without their knowledge. This constitutes about a million liters. Add another million, lying with the importers, stockists, and restaurants where it is laying in the state of purgatory.
A total of 13 million liters, equivalent to a year's consumption is awaiting an unrealisable dream of being consumed. This can be all converted into bio-fuel.
But this is only the tip of the iceberg. The ministry of agriculture can encourage the farmers to grow more grapes, cheaper grapes which won't matter as the wine quality is not important for the bio-fuel. The converting companies can collect all this surplus wine and convert into fuel that could go into the government owned and run cars-at least in Maharashtra-because surely there would be no excise duty on the state produced grapes, wine or the bio-fuel.
There might be a little problem with the economics and the economy of scale which needs to be looked into. But the farmer community will be a happier lot.
Written with apology to the producers known for making quality wines and have no surplus problem, now or in the foreseeable future- editor