A Tanzanian co-operative winery, Cetawico, made a successful debut into the international world of wine sales and marketing at Vinitaly, writes Cathy Van Zyl who was a co-juror at the Vinitaly International Wine Competition. She is a Master of Wine(MW) from South Africa and writes her column regularly.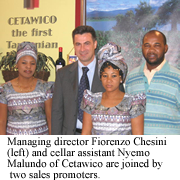 Cetawico is located near the village of Hombòlo , on a plateau 1100-1200 above sea level in the Dodoma region some 700kms from the equator. The company was started in 2002 by a Veronese humanitarian organisation – Fondazione San Zeno – when Fiorenzo Chesini, an Italian engineer sent to Hombòlo to project manage a borehole project, found several hectares of healthy vines. These had been planted by a missionary some 15 years earlier, who'd then left Hombòlo for another mission.
The funds provided by Fondazione San Zeno made it possible for Cetawico to set up avant-garde cellars to process the Chenin Blanc, Teroldego, Marzemino, Aglianico and Syrah grapes delivered by its 100-plus members. Employing 30 staffers on a full-time basis and Chesini as managing director, it is now entirely self-sufficient. Current production of three wines (a chenin blanc, rosé and red blend) tops 100 000 bottles. This is sold on markets in East Africa , where western tourism is more developed but the co-op now hopes to enter the international market, through Italy and Ca' dei Colli, a wine-growing company set up by three Veronese producers focusing on niche products.
According to Chesini, the wines were so well received at Vinitaly that Cetawico intends doubling production by September and then quadrupling this to 800 000 within a few years.
Cathy van Zyl
Email - cathy@iafrica.com