Prof Serge Renaud, the 'father' of 'French paradox' has received France's highest distinction, the Legion d'Honneur. He was named Chevalier of the Légion d'Honneur on 14 July, the French National Day.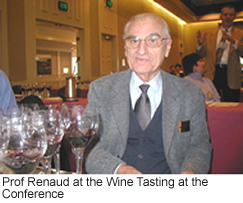 The term 'French Paradox' was coined on Sunday, November 17, 1991, during the CBS Programme, '60 Minutes'. Dr. Renaud produced evidence that while the French ate excess amount of fats, smoked heavily and did little exercise, the incidence of heart disease was one of the lowest in the world. He had conducted a study on 34000 men and women, smokers and non- smokers, which showed that, people drinking 2-3 glasses of wine a day, reduced the death rate by up to 30 %.
Sale of red wine had shot up by 40 % overnight and Gallo had to ration their signature red wine, their inexpensive 'Hearty Burgundy'. Next year had seen a further jump of 39% in the sale of red wine
Prof. Renaud reiterated at the 3rd International Wine and Health Heart Summit held in Napa earlier this year that "it would be short sighted to not recognize the enormous public health benefit that this diet could confer." He and other experts have long encouraged US public health organizations such as the American Heart Association to take these important findings into account when providing messages to the public.
Renaud Society, an International Society of Medical Professionals with an Interest in Better Health and a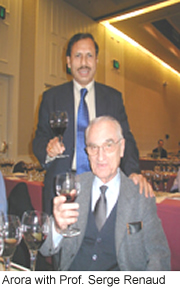 Passion for Wine was also formed at this Convention where Prof Renaud was present. The objective of this Society is to further the cause of wine for better heart health. The society boasts of several doctors from across several states in the USA, Australia, UK and France. He also has been a keynote speaker at various international forums like Vinexpo.
Ironically enough, the French ministry for health, which has joined the ranks of anti-alcohol groups in France, involved in protests resulting in reduced wine consumption that has caused a precarious situation for the wine producers, was instrumental in getting the nomination for Prof Serge Renaud.
Details at http://www.decanter.com
Subhash Arora
When I first met Prof Serge Renaud at the 2nd International Health Summit in Napa in March, 2003 he fondly remembered one Prof Singh from Moradabad with whom he had done some studies and presented joint papers.. He had been very impressed by his work. I promised him I would find out whereabouts of Prof Singh for him. Thanks to the Net I traced Prof R.B. Singh, a preventive cardiologist and advocate of wine for prevention of heart attack and got him in touch with Serge, as he is fondly addressed. -
Subhash Arora