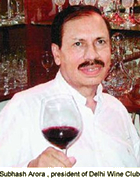 Online edition of India's National Newspaper
Tuesday, Sep 07, 2004
IF SUBHASH Arora, president of the Delhi Wine Club, turns angry each time he sees someone grabbing a wine glass, don't blame him. He has spent a lifetime falling in love with wines and is "troubled'' at seeing the "abuse'' of wine. So much so that he is now engaged in the business of giving a few lessons to those in the Capital ready to explore the world of wines.
Part of an ongoing endeavour to educate wine-lovers, the Delhi Wine Club holds regular get-togethers and training sessions and is now hoping to educate Delhiites about how to enjoy wines the correct way. And the deal comes with an assurance from the president who claims - "in ten minutes I can teach a person how to enjoy their wine.'' He, however, is also quick to add that "a lifetime is not enough to learn about wines.''
Speaking about the basics, Mr. Arora explains: "One never uses the saucer shaped glass while having champagne because the most enjoyable part -- the bubbles -- disappear faster. Even the level of champagne poured should be three-fourths full or even slightly more as one never swirls champagne for the same reason.''
But according to Mr. Arora, it is often not the glass that is used incorrectly, it is also the way people hold the glass of wine. "The only correct way to hold the glass is by the stem though some professional tasters and aficionados like to hold it by the base. The most important
reason is that it helps you swirl the wine and bring out faster and more fully its aromas in the shape of ethers by evaporating the alcohol in the wine that sticks to the sides on swirling.''
"Wine," he adds, "gets warmer if held by the side of the glass bowl due to higher temperature of the fingers or palm. You want wine, especially the white one including the sparkling variety, to stay as close as possible to the served temperature to get its maximum flavour. Besides, imagine sipping wine and eating a pizza, samosa or a chicken tangri kabab with hands at the same time! The fingerprints of grease and spice on the glass do not make a pretty picture, especially to those conversing with you.''
But these, he assures, are only pointers. There is so much more that one can learn about wines and how to enjoy them the right way. The Delhi Wine Club, formed in 2002, has its schedule full for this year and those interested can look up at www.delhiwineclub.com to learn and even keep themselves updated about the many swirls in the world of fine wines.
"Through our programmes we not only educate people about wines but you also get a chance to talk to people who are interested in good wines both from India and abroad,'' adds Mr. Arora.
By Bindu Shajan Perappadan