Published in the ----July/August2006: Issue 4
PERSONAL PREFERENCE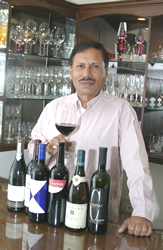 Subhash Arora is the President of the Indian Wine Academy . His passion for wine has taken him around the world and he has participated in leading trade shows and international seminars on wine trends. An IT entrepreneur, he is also the Founder President of the Delhi Wine Club.
I prefer red wine to whites because of their health benefits and complexity. I like Bordeaux blends, Burgundy, Barolo, Barbaresco and Brunellos. Although heavenly with red meats which I generally avoid, these premium wines are very expensive for regular drinking.
I also like Super Tuscans and Amarones, Spanish Ribera del Duero and Rioja (if not too acidic), and, of course, Chilean Cabernets and Carmenere Reservas as they are well rounded wines and still affordable. Whites are refreshing in summer and my favourites are Sauvignon Blanc, Pinot Grigio, Gavi and Chablis (Chardonnay). Among the Indian wines, my preference is for Grover's la Reserve, Sula's Sauvignon Blanc and Indage's lvy Brut for a mimosa cocktail.