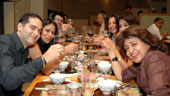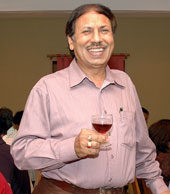 (From top): Members of the Delhi Wine Club raise their glasses at Sakura in Hotel Nikko; Subhash Arora, president of the Delhi Wine Club
It's a learning experience combined with a lot of fun. The four-course dinner at the Japanese restaurant Sakura, hosted by the Delhi Wine Club, is accompanied by a different Burgundy wine to go with each course. So as you pick your way through the meal and delicately sip on the Chambolle-Musigny, a feeling of well-being spreads through you. But listen carefully as the wine connoisseur pronounces the verdict: "What you are experiencing is an elegant, medium-bodied red wine."
Do you get a towering inferiority complex every time someone mentions the word wine? Would you like to learn how to distinguish between a Merlot and a Pinot Noir?
Joining a wine club could be just what the doctor ordered. If all goes well, you'll have ripped away some of the mystique that surrounds wine drinking.
When retired physicians, Beena and Naresh Nagpal, heard about the Delhi Wine Club during a visit to the city, they became members instantly. "We are here for seven to 10 days every month. And there's a wine meet here almost every month. We thought that it would be a good way to get exposure to different wines and get together with like-minded people," says Naresh.
Just like book clubs where bookworms can come together to share their passion for turning pages, these wine clubs are specialist interest clubs for people sharing a common love — good wine. They are a good start for those looking to develop their knowledge of fine wines and those who want to sample a range of wines from around the globe.
The good news is that Calcutta will soon have its own wine club at The Park. The hotel's food & beverage manager Anirban Simlai is putting together this first-of-its-kind project with help from wine guru Sanjay Menon and sommelier and author Magandeep Singh.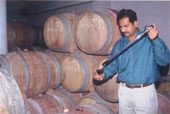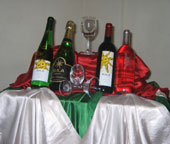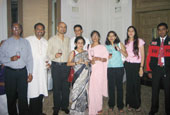 (From top) Abhay Kewadkar
in the barrel room of Grovers'
Vineyard pouring the La
Reserve,rated by Decanter
magazine,August 2005 as Best
New World red wine; a selection
of Sula Wines made in India;
members of the Hyderabad
Wine Club
"I am training sommeliers and managers who will be the experts at our wine meets. We hope to start with 50 members. The thing is that the wine culture is catching up in the city and we want to encourage this drink that goes well with any kind of cuisine," says Simlai. Menon, who will be one of the club's founding members says it will start listing members within three to four months. He says, "Besides high-end customers, the next level of customers are also looking forward to an intellectual pursuit of wine."
Balaji BK Rao, president, Hyderabad Wine Club, attributes the popularity of wine clubs to changing lifestyles, frequent travel abroad and an increase in spending power. He says, "We want to shift people's preference from hard liquor to wine."
"The idea is to get people interested in the drink. Ten years ago at a party of 50 people, two to three bottles of wine would suffice. Now it would never do. Even Indian wines like Grover and Sula, as opposed to the ubiquitous Golconda that sold a decade back, are as good as imported ones," comments wine aficionado Bhaichand Patel.
The concept of wine clubs in India was pioneered by Table de France, now known as the Wine Society. About eight years back, French winemakers were launching in India and wanted to promote wine culture. Ghulam Naqshband, the current president, along with a group of wine enthusiasts started Table de France in Delhi to promote French cuisine and wines. However, as the market started opening up, the society changed its name so that wines and cuisine from other countries could also be brought under the umbrella.
"India consumes about seven million bottles of wine every year so it's natural that wine clubs are mushrooming all over," adds Patel. Wine clubs have cropped up in Delhi, Gurgaon, Chandigarh, Bangalore and Hyderabad.
There are different kinds of wine clubs — subscription, social, discount and free (though the last two haven't reached India yet). Subscription clubs are the most professional with experts making available the best of wines to members. The clubs in Delhi, Gurgaon, Bangalore and Hyderabad are subscription ones. Subhash Arora, president of the Delhi Wine Club, for example, travels abroad to participate in wine expos and festivals, to catch up on what's happening in the industry globally. The Wine Society has a sommelier at every event to educate its members on the wines tasted.
The Chandigarh Wine Club, meanwhile, is more on the lines of a social wine club. It a smaller affair formed among friends who collect funds as and when they meet. There's Yasho Saboo, former president and member of the Chandigarh Wine Club, who travels and comes back laden with bottles for their frequent meets.
"Chandigarh has a discerning set that travels overseas. So we don't need to buy wines from importers, but source them through those on the move," says Saboo who founded the club three years back with 15 members. Now the numbers have gone up and the club presently has about 60 individuals on its list. Adds Saboo, "There's no subscription. We pay every time we meet, so there are no account-keeping hassles."
Whatever the type of wine club, the greatest benefit is that members can try out a variety of wines from across the globe. At the Bangalore Wine Club, former president Alok Chandra has in 30-odd events organised about 120 different wines. He says, "We like to promote Indian wines as well. That's very important — to be aware of home grown wines."
But merely tasting isn't enough. Being familiar with the nuances of wine drinking is crucial. Lata Nath, a Calcutta socialite, who's also involved in starting the city's wine club, calls it 'wine etiquette'. "There are some cardinal rules as to how you should hold the wine glass, swirl the drink, smell and get the bouquet that you learn at a club," says Nath.
Abhay Kewadkar, vice-president of Grover Vineyards and president of the Bangalore Wine Club, organises wine workshops for members. "A lifetime is not enough to learn about wines," he says. There are training classes at the Delhi Wine Club too where Arora makes sure that members know that the correct way to hold the glass is by the stem. "It helps you to swirl the wine and bring out faster and more fully its aromas," he explains.
Crucially, the clubs also discuss which type of wine should be served with different types of food. Then there are invitations to wine tasting sessions, special wine events, wine and cheese dinners and trips to wine making regions.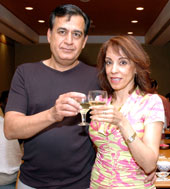 Retired physicians, Naresh
and Beena Nagpal joined
the Delhi Wine Club to get
exposure to different wines
and get together with like-
minded people
Dinners are held almost every month at the Delhi Wine Club and its Gurgaon chapter. The Wine Society has select six to nine 'tastings' a year and most often these are done when there is a wine maker or a sommelier visiting from the winery whose wines are being tasted.
The Chandigarh Wine Club has divided its events into 'serious evenings' and 'fun evenings'. "We open three to five bottles of very expensive wines on these evenings, so it is an exclusive affair limited to 20-25 individuals," explains Saboo.
The fun evenings are about music, dance and dinner where 40-50 members come together. Says Saboo, "The venues keep changing. Sometimes they are held in discotheques."
Travelling is also part of the itinerary for some clubs. While members at the Delhi Wine Club have travelled for wine expos and fairs to Singapore, Italy and France, the Bangalore Wine Club takes its members for vineyard tours.
"The last time we went to Grovers' Vineyards, the members got to taste wines they otherwise wouldn't get in the market," says Kewadkar.
How much does it cost to be a wine club member? It comes, roughly to anywhere between Rs 700 and Rs 2,000 per person for a year and Rs 650-Rs 1,200 per person for a dinner evening. Of course, there are certain requirements. You have to be above 25 years of age. Though many clubs count expert vintners or sommeliers among their members, you do not need to be an expert to be a member. Some like the Bangalore Wine Club, the Wine Society and the Delhi Wine Club have a screening committee to select members.
Says Arora, "We like to keep the atmosphere at a get-together congenial. Wine clubs have been made for friends to gather around to have a good time.
Photographs by Rupinder Sharma
Wine etiquette
"There are no standards of taste in wine, cigars, poetry, prose... Each man's own taste is the standard," said Mark Twain. True, it's good to have your own standards, but there is some etiquette that is smart to follow:
• How to hold a glass? By the stem. It helps you swirl the wine and bring out its aromas faster and more fully.
• Wine gets warmer if held by the side of the glass bowl.
• Avoid wearing strong perfumes to a wine tasting affair.
• Wine tasting can be broken down into five basic steps: colour, swirl, smell, taste, and savour.
For Original Edition Click Here