( Reproduced from The Week Magazine October 17, 2004 Issue )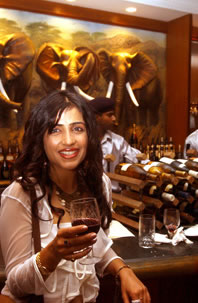 DelhiBeat
The smooth 'snob drink' becomes
a lifestyle fad
By Kavita Bajeli-Datt
Fill ev'ry glass, or
wine inspires us,
And fires us
With courage,
love and joy,
Women and wine
should life employ.
Is there ought else on Earth desirous?
These lines from John Gay's 1728 classic, The
Beggar's Opera, seem to fit Delhi's swinging wine and cheese culture. And it's the wine sellers and
manufacturers who are raising the toast.
Give me red: Singer Shibani Kashyap, a "fanatical wine drinker"
Considered a 'snob drink', wine is steadily catching the fancy of the youth, not so much for the love of the light, fruity ambrosia but as a lifestyle fad. From jug wine (cheap wines) tastes are moving to imported brands.
Time was when wine lovers waited for a visit to foreign lands to get a bottle of Bordeaux or Burgundy. Now, many retail shops store wines from both the old and new worlds. "Wine is divine. And yes, it is a fashionable drink," says Subhash Arora, president of the two-year-old Delhi Wine Club. "Three Indian companies—Grover, Sula and Chateau Indage—ushered in the change." Arora organises 20 wine events a year so that members can sample a variety of wines.
The wine market in India has grown by 30 per cent and sensing the demand, companies from South Africa, Spain and Italy are moving in with their ranges. Wine importer Gurpreetesh Singh Maini feels the market has "improved phenomenally". "Wine is a lifestyle product," he says. "It sounds sexy and looks good. And the wine market grows when the economy grows. People now can afford to spend on wine."
Recently, Australia's Green Point launched Brut NV (sparkling wine), Yarra Valley Chardonnay 2002 (white wine), Pinot Noir 2002 and Victoria Shiraz 2002 (red wine) in India. As Bernie Wood, wine maker and chief viticulturist of the company said: "India has a sizeable base of well-heeled consumers who have been exposed to western culture and habits for a long time. India is the second largest export market for us in Asia."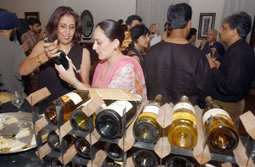 Around 75,000 cases (900,000 bottles) of imported wine and 400,000 cases of Indian wines are sold in India annually; Delhi's consumption is 30 per cent. Prices of Indian wines range from Rs 300 to Rs 400; imported wines can be anything upward of $12 (Rs 550). Companies like Green Point and Moet Hennessy India can be credited for the growing wine consumption. They have been promoting and organising events targeted at consumers and trade groups. "We are promoting a new concept—wine by the glass; this makes it more assessable," says Ashwin Deo, managing director of Moet Hennessy India. "We also hold wine and food festivals and try to pair different food with wine."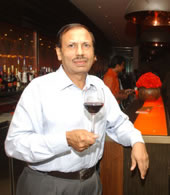 Cheers to a new lifestyle: Subhash Arora, president of Delhi Wine Club, at Park Hotel; (above right) Connoisseurs making their choice at Hotel Nikko
Sommelier Magandeep Singh, however, says hotels and newly-opened pubs and restaurants are mainly responsible for the increase in wine sale. "Hotels are the major influence; they have given wine a snobbish and exclusive tone." Hotels have wine and dinner parties, or wine and cheese nights, like Hotel Nikko in Bangla Sahib Road and Park Hotel in Connaught Place. In fact, Olive Bar and Kitchen in Mehrauli, in south Delhi, provides a basket of fruits, bread and a wine bottle for starters—all for Rs 950.
"When I go to a pub or a restaurant, I really give a lot of importance to the ambience," says Sheema Vohra, Director India and Subcontinent, Global Sales Organisation, Marriott International. She got hooked to wine during her college days in the US and became a member of a wine society there. "Wine is smoother and more refreshing than hard drink," says Sheema, who feels that because wine has found acceptability, more women are seen drinking it. "Women are doing what they want to do. Wine is good for health; it is less fattening." Singer Shibani Kashyap who calls herself a "fanatical wine drinker", is busy converting all her friends to wine. "Some of my friends guzzle beer and they could put on weight."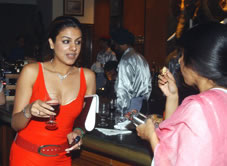 Women and wine: One of the many wine and cheese parties at Hotel Nikko
Irena Galli, an Italian and member of the Delhi Wine Club, quotes research to justify wine's growing popularity; she credits red wine with anti-ageing properties and says it reduces the chances of catching cold by up to 40 per cent.
It is easy to spot women connoisseurs at wine parties. They take their drinks seriously and talk wine lingo. It is either acid (indicates sharpness of taste) or cloudy (lacks clarity) or grapey (wines with simple aromas and flavours linked with table grapes).
During his visit to India, David Dean, marketing manager of the Australian Wine Export Council, found that women seen drinking is no longer frowned upon. "In fact, younger women are embracing wine," he said. "Young Indians studying abroad, particularly in Australia and the UK, are also turning to wine as a sign of status and being internationally savvy."
But there are potential sour grape situations that can put off wine exporters. Import duties and taxes act as stumbling blocks to increasing wine consumption in the country, says Arora. "India has a very complicated bureaucracy with respect to the sale of wine," says Deen. "In a number of markets in India (New Delhi is one) there needs to be a change, so that wine becomes more accessible."
But Arora is positive about wine drinkers growing in the coming years. "The onus is on young people," he says. "They should follow a healthy lifestyle. With wine, one can just enjoy and savour its various facets."
With a health tag on wine, who wouldn't reach for it.
Wine and its ways
Store wine horizontally in the dark at 20 degree Celsius.
Serve full-bodied red wines at 18-20 degree Celsius; lighter bodied red and white wines should be chilled; sparkling and ice wine at 5-8 degree Celsius.
Use plain, light and thin stemware with wider base and narrower tulip shape top to get maximum aromas. Sparkling wine must be served in flutes to help sustain bubbles and the bouquet.
Swirling wine makes alcohol in the wine on the sides of the glass evaporate faster, releasing aromas directly to the nose.