Avtar S. Sandhu
Winning Over India with Wine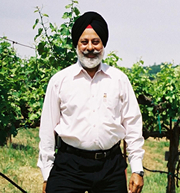 Avtar S. Sandhu's home faces the rolling acres of the Gallo vineyards, and he admittedly enjoys the view. "Every evening I watch the sun set over that hill from my deck. It's great." Delhi-bred Sandhu, 67, first came to California in 1962 as a student in structural engineering at the University of California, Berkeley. After completing his master's degree, he embarked upon a successful engineering career, working for Stone Webster and Bechtel in India and America, where he ultimately settled and became a citizen.
Enchanted by the wine country, in the 1970s he bought 23 hectares in Geyserville, and planted 12 hectares of vineyards. His first vintage was producINDed in 1985 with the help of winemaker Kerry Damsky. His label, Mushal, was named after his family's ancestral village near Amritsar. Today Sandhu's vineyard has a 10,000-case annual capacity. He is primarily a grower, and sells his Cabernet Sauvignon, Fume Blanc, Sauvignon Blanc and Chardonnay grapes to nearby Pedroncelli, Acorn and Dry Creek wineries. He does occasional custom crushes under his own label. Now that he is retired, Sandhu Vineyard is his home, although he frequently returns to India to visit his family and to look after Ark Hospital, a charitable hospital that he funds in New Delhi.
Sandhu is a community activist who served three years on the Geyserville planning committee and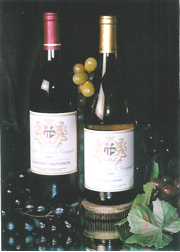 also spent five years lobbying for legislation allowing farmers to shoot wild turkeys. Why? In the absence of natural predators, the wild turkey population in Sonoma had soared. Mobs of ravenous turkeys freely feasted on Sonoma produce, Sandhu's grapes included. His attempts to scare them off by blasting clay pigeons with a shotgun hardly fazed them. But Sandhu's many trips to the state capital, Sacramento, paid off. He was successful in getting permission to curb the turkeys.
Now Sandhu has shifted his activism to promotion of California wine in India. Winning over New Delhi's Hotel Imperial was his first coup. In 2004 he began bottling Cabernet Sauvignon, Chardonnay and Sauvignon Blanc wines for them under the Imperial's own house label. "The best French wines stay in France, or go to Europe and America. The rest go to South Asia, and that's not very good wine," Sandhu says. That's why he sees a good market in South Asia for California wines. Anyway, he adds, "We need people buying our wine to sell grapes."
Last year was a difficult year for grape growers in California. "We had to sell our grapes for 50 percent of the average price," Sandhu says. The reasons were overproduction coupled with slow wine turnover in the poor economic climate. "Wineries can store wine, but growers can't store grapes, so we have to sell." Nevertheless, 2004 was a good year for the California wine industry generally. According to the San Francisco-based Wine Institute, U.S.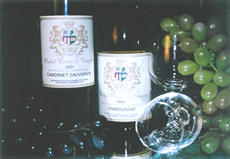 wine exports increased an unprecedented 28 percent over the previous year, bringing a total $794 million in wine revenues, $173 million more than in 2003. California produces 95 percent of U.S. wine exports. Wine institute International Director Joseph O. Rollo explains, "The weaker dollar has allowed California wineries to better compete at key price points in the world export market." That, coupled with the current Government of India policy that allows duty-free import of wines by established hotels earning foreign exchange, could spell success for Sandhu and others who want to step up California exports to emerging markets such as India.
By Lea Terhune