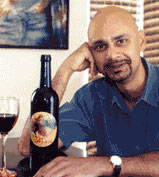 Mr. Rajeev Samant is the owner of Sula Vineyards in Nashik, Maharashtra, producing Sula brand of wines. Their portfolio includes Sula Brut sparkling wine, Rose` Blush from Zinfandel grapes, Sauvignon Blanc, Chenin Blanc and a Merlot bulk import from Chile, that is bottled in India. They recently brought out Madera, a red table wine. Mr. Samant was in town recently to attend the India Food and Wine Show where I interviewed him for the Delhi Wine Club website. Here are the excerpts based on the Talk and his reply to some questions after the new mini Exim Policy announcement of 29th January, 2004.- Subhash Arora

You were a successful software engineer in the US. What made you come back?
Rajeev - I graduated in Economics and Industrial Engineering from Stanford and was working with Oracle in the Silicon Valley. But I had made up my mind to work in India. My family had shipping business and other interests but I wanted to venture out on my own. We had some family land in Nashik so I decided to work there. Starting with fruit orchards I soon realized that there was no economic viability in that project. There were already some grape growers who were not doing too well. But I knew with proper strategy I could make it happen with wines. So I decided to go back to California, where I learnt about wines and vine growing and came back with help from a wine-maker there.

What was the status of wine industry in India when you started making wine?
Rajeev - A lot has changed in the last 5 years, when we started wine making. Earlier, imports were restricted but duties were lower. The hotels imported wines at an import duty of 100%. Embassies were big importers with a lot of their purchases finding way into the grey market. ITDC duty-free shops were another market segment. One could not sell much wine through the liquor shops. Import was generally limited to low end French and a few Italian wines. New world and even Spanish wines were very limited.

What was the impact of the new policy regime on wine consumption?
Rajeev - Total market changed after this policy, which allowed anyone to import wine and liquor, but at exorbitant duties of up to 264% on wine. This was a big shock to the hotels. As a result the new improved Indian wines started having a bigger share of the market. Don't you think gray market continues to influence the market?
Rajeev - I feel that till a year ago grey market was big because of high duties.. But the government has come down with a heavy hand in this area. It is my prediction that this market will come down drastically and sales will continue to increase through liquor shops.

What has been the main reason of Sula growing so fast?
Rajeev - As you know the excise policy dictates the sale of wine to the shops, even though customs duty are an important factor. Maharashtra and Karnataka (and later Goa) made selling of wines at the liquor shops much easier. As compared to a maximum of 10 imported brands, between 70-80 labels are being sold today. About 20% of shelf space is being taken by wine. Sula sold in 25 -30 shops in Mumbai three years ago. Today 160 out of a total of 550 shops in Mumbai sell our products. Another important factor for us was that we pioneered new grape varieties like Sauvignon Blanc, Chenin Blanc and Zinfandel thus expanding the market. We have also been able to export to wine producing countries like Italy, France and the US, which makes us glad that our quality is acceptable and we aspire to improve it further.
What do you see as the growing sector of the market?
Rajeev - Women are now coming forward in a big way in drinking wine. Earlier middle classes did not understand wines but now they are drinking them more. For example, Trishna, the well known sea-food restaurant in Mumbai, offering a mid-priced popular menu have increased their range from a couple to about 10 and have shown a revenue increase of 25-30% in wine whereas the food sales have not kept up the pace.

Do you see retailers playing an important role in wine distribution?
Rajeev - We see more and more sales through this channel. The biggest distributor of wine in Mumbai is Shah. About five years ago his total revenues from wine was 2% of his sales. Today, it is 10% going on to 12%. He is located in a mass-market area where the footfalls are enormous but looking for cheaper products. He stores now about 80 brands of wine from all over the world. This is very encouraging for wine sales and consumption.
Sourish Bhattacharyya