Mr. Angelo Gaja created history of sorts when he introduced his Nebbiolo wines from Barbaresco, a small village of Piedmont, Italy for more than $200 per bottle. Dubbed as the Prince of Piedmont by the Wine Spectator and consistently rated as on of the top wine producers of Italy on several occasions by wine experts, critics and magazines he has changed the earlier Italian philosophy of producing bulk wines at cheaper prices and put Barbaresco on the map of fine wines at a time when only its neighbour, Barolo had been recognized as the maker of fine wines from Nebbiolo grapes.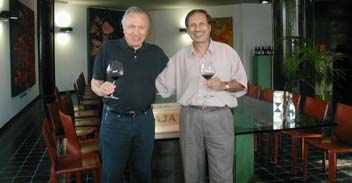 I had earlier met Mr. Gaja in VinItaly 2002 and again in VinExpo 2003 when he invited me to visit his Tuscan Winery called Ca'Marcanda in Bulgheri, located in the small village of Castagneto-Carducci. This winery won the Italian Oscar for being the Best Winery of the Year 2003. Following are the excerpts from the 2-hour chat that included tasting his Magari, Promis and Ca'Marcanda wines made from international grapes like Cabernet Sauvignon and Merlot. Words may not be exactly his but in essence are his. … Subhash Arora
Arora: Congratulations again on your Ca'Marcanda getting the Oscar for the best Azienda in Italy for 2003.
Gaja: Thank you. Actually we have got a couple of awards already for wines in the earlier year including Sori` San Lorenzo. But this one was special because we got it for our Tuscan Winery, which is relatively new. How did you come to know of this Award?
Arora: I was in Amsterdam on 21st June on my way to the VinExpo 2003 in Bordeaux. I switched on RAI Uno Italian Channel when I saw the Award Ceremony going on. Yours was the last and the ultimate Award for the best winery. Can you tell me something about this Award?
Gaja: These were initiated 3 years ago by the Italian Sommeliers' Association, IES, to help recognize the quality wines and wineries of Italy and help improve the quality of Italian wines.
Arora: How is the Award decided?
Gaja: There are 30,000 members who are given a list of short-listed names. They vote for different categories and the ones getting the maximum in each category get the award. The Award ceremony is held in Rome every summer.
Arora: You made Barbaresco world famous by introducing fine wines made from Nebbiolo. What made you chose Bulgheri in Tuscany?
Gaja: There are a couple of reasons. Firstly, expansion in Barbaresco was getting very difficult. The Classification rules make it extremely difficult to expand there. As it is, the land being limited is astronomically expensive. We had found a place in Montalcino where we started producing Brunello. I wanted to experiment with international variety of grapes like Cabernet Sauvignon. Antinori has been in this area for a long time. This area is also on my way from Montalcino to my home in Barbaresco in Piemonte. So I used to scout around this area on my way home to locate a suitable property till I found this one.
Arora: I believe your wife had a hand in naming this Azienda.as Ca'Marcanda.
Gaja: Ca'Marcanda is a colloquial term in Piemonte and is used when people have the house and business at the same place. I used to be so busy in my work that she felt the business was my home. So you could say that the idea was hers.
Arora: Thank you for inviting me to your vineyards in Ca'Marcanda. I believe you do not receive visitors here normally.
Gaja: We believe that the winery is a place of work and worship. We do not like to make it a place for tourists. It distracts us from our main business of producing good wine. Unlike in America where it is used commercially by the winemakers, we discourage it strongly.
(While talking to me, he is interrupted by phone calls from customers in Washington, Baltimore and Seattle and many others.)