Born in UK with Italian ancestry and living in Bordeaux for almost 50 years, the colourful and bubbly Count John Umberto Salvi MW is a Bordeaux wine specialist who has spent most of his 71 years around wine. Subhash Arora caught up with him at Vinoble 2008 in Jerez last week and chatted with him at length.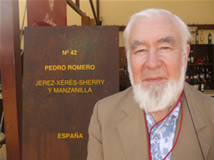 While Jancis Robinson and Michael Broadbent are known rather well internationally, they- and John are only a part of the special tribe in the wine industry, known as Master of Wine. If they were given a degree, it would be an MW, which they are addressed as.There are only about 260 members who belong to the elite club, which admits the wine specialists after testing their skills in a torturous procedure which keeps many more aspirants falling by the wayside.
Background
'My ancestors from the father's side were from a small village of Friuli, called Sassoferrato, the same village from where Mondavi's family came. It was a family of painters, sculptors. One of the direct descents had designed the famous Fontana di Trevi in Rome. That is how we got the papal title of 'Conte', says Salvi.
John's grand-father was a famous opera singer. He had gone to London to sing in Covent Garden, when he fell in love with an English woman and decided to stay back. 'My father was a wine merchant so I grew up in wine literally till I decided to go to France to work for my father's friend Allen Sichel in 1955.'
He was the sales director of Sichel when he quit in 1984 due to conflicts in philosophy. 'I am a purist and he was a blend person,' says John.
Master of Wine
He did his MW in 1970, there were about 30 some persons who had earned the title prior to him since the programme was initiated in the fifties, he says. 'I was lucky enough to pass it during my second attempt only, 'adds John, indicating the tough standards set back then, in contrast to what some people believe today that the standards have become much tighter now.
Although he does not remember the living members more senior to him, he reckons about 20 are still around, including Broadbent.
Bordeaux
For anybody who is a wine aficionado, Bordeaux remains the Mecca of red wine. It goes hand in hand with Burgundy with whom the Bordelaise have a love-hate relationship. But most of the wines whose prices are sky high are from Bordeaux or DRC (Domaine Romanée Conti) with a few exceptions from Rhone.
'Unfortunately, Bordeaux is getting more and more polarised now. The top producers (first, second and a few o the third growths, generally) are super rich and flush with funds, with their coffers overflowing with money, as a producer admitted in an open meeting to Jancis Robinson. They have become arrogant, with a couldn't- care- less attitude.
On the other extreme, there are1500-2000 producers who brought the shutters down last year since they could not survive. The problem is there is too much over-production. Over 2 million liters of excess in Bordeaux, with whites selling for around a Euro, means the farmers just cannot survive. They are struggling hard with no funds to promote or market the products. Today, Bordeaux offers a great opportunity to buy great value-for-money white wines but you have to locate them yourself. The growers don't have the money to come to you with their products. That is the tragedy of Bordeaux.
Bordeaux En Primeur
'The very thought brings me shudders. The prices have sky-rocketed during the last 2 years. The red vintage has been not great- drinkable earlier but not for aging and has not potential for appreciation. Yet the chateaux are resisting any drop. I think there should be a drop of 30% while they are announcing of 3-10% only. I won't advise anyone to enter this year.'
'Agreed the Sauternes has been an excellent vintage better than even the two previous vintages, but the prices are very firm and don't forget that Sauternes does not represent complete Bordeaux. I won't advise investing in 2007 vintage.'
Champagne and champagne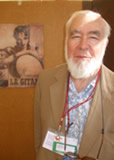 'I believe champagne is the biggest success story of France. But I am not surprised. There is no sparkling wine in the world which comes close to Champagne. It is so distinctive that it would be very difficult not to identify champagne on the palate no matter how closely the others are made.
No doubt, the producers have got together and the prices are somewhat controlled and are thus going up all the time. But I am not in tune with those criticising expanding the champagne making region. Don't forget that the land now including in the Champagne appellation has always been a approved part but was withdrawn 50-60 years ago when the prices were not remunerative enough and the aristocrats and nobility did not chose to be a part of the appellation, a decision they regretted bitterly in the later years.'
'The people who are critical in saying that it is just a ploy to add production are not well-informed. Also, a few people who are in champagne are disgruntled too; those who are on the fringe suddenly find their neighbour's land shooting up 20-30 times.
It is also pertinent to note that the champagne from this region will be released, not before 2014. So we have to be prepared for shortage during the next few years. Also, none of the renowned Houses plan to grab the new land to increase production. I guess they hope to make more money by the prices of their product going up.
Impressions on Vinoble
Coming to Vinoble is like home coming to me. I have known many producers for a number of years and I enjoy meeting them.
I have attended 5 of the 6 shows held so far including this one and always look forward to coming here every two years. It is fantastic they way the show has taken off. Earlier, the organisers had trouble getting the sweet wine producers to exhibit. But now every serious player in the world making sweet wines wants to participate. Some people cannot exhibit, obviously because of the budgets but it is truly a grand show for these specialist producers.
Naturally, it is a Mecca for those who are truly passionate about Sherries; I am one of them. Every single wonderful sherry is at the show and the producers bring out their best at the show. My favourites Lustau, Hidalgo, Pedro Ramero, Williams & Humbert, Gil Luque, Gonzales Byass are a few of the producers who are all here.
The best part of sherry producers is that they all have something at the top which is of excellent quality. Most have a stock of old vintages which is rare to see elsewhere. For instance W & H has añados (vintage) of 1900 too.
The only thing I find uncomfortable is that their evening programmes are not as grand as they used to be earlier. A few finger-foods being passed off as tapas while you are standing around throughout the long evening are not my idea of a cocktail or reception but I do make it a point to be present as often as physically possible as a mark of support to the show.
Wines of Spain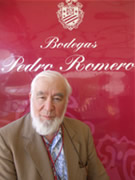 Sherry is one of the greatest wines of Spain and in fact the world. I like wines from Rioja and Ribera del Duero, though I must admit very few would match up to the classic great wines of Bordeaux.
I am also not very optimistic about the future of sherry the consumption of which has been going down. The sherry people are making promotional efforts, which they must, but I don't think it is easy to be on the come-back trail. The youth have not taken to the drink at all and it is all but finished as aperitif. Old folks like me love it, so do some women, especially the Cream, Medium or Pedro Ximénez but that is not enough to expand the market.
You must also appreciate that brandy is a big business-more important for these producers. They have a slightly sweet and caramelised style and darker colour which may not appeal to the Brits but Spanish and Latins love it and the consumption is getting bigger for the Jerez brandies.
Alcohol Awareness Campaign in UK
'What do you say to the recently launched campaign by the UK government to create awareness about the high alcohol content in big glasses of wine and increase in alcohol content of some wines?' I ask, bringing an instant roaring response,' That is hogwash and downright stupid. Even a child of 9 years knows too much of alcohol is bad. The women who they are trying to preach to, already know about the harmful effects of too much wine. They will not cut down on their drinking with such campaigns?!'
'It is also regrettable that soft drinks companies are pumping money in the campaign to safeguard their commercial interests.'
I think organisations like AIM (Alcohol in moderation) are doing a decent job of creating this awareness and that is good. But I don't subscribe to this campaign idea, sorry.
I Love India
'I have been to India only once but I would love to visit India again,' says john wistfully. 'In what way could he help the Indian wine consumer or the industry?' I ask.
'There are many ways I can help the importers and consumers,' he says. As a consultant I have been helping the buyers in UK and the US to buy wines from Bordeaux. And I don't mean only from the top Bordeaux Chateaux. Having spent decades, I know the inside out of the region and can give advice on picking value-for-money wines.'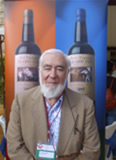 As a niche area, I know there are many rich people who have money but not enough knowledge about top end or investment grade wines. I could assist them. For instance, last year I helped Antique Wine Company in London, for whom I am a consultant, put up a complete vintage portfolio of Chateau d'Yquem from 1870-2003, which was sold to a Russian collector for a million dollars.
I helped one of my clients re-condition a case of the legendry '47 Cheval Blanc where we tested, tasted, refilled and re-corked the case, which was sold after 2 months for £ 75,000. The most enjoyable part for me was that the 13th bottle from which we re-filled the case, had about a third left in the end. So we had a '47 Cheval with dinner!
I can even organise an upmarket exclusive trip to Bordeaux chateaux through Vinofino, the wine tourism company my wife Petronella runs for high class clients. I am a guide for her company. These tours mean lunches and dinners with the top chateaux proprietors and are exclusive, mind you and each trip has a limited number.
On DelWine
'I like your newsletter delWine and would love to answer any questions your readers might have not only about Bordeaux or French wines but pretty much on any wine subject.'
Till you meet this grand ol' Brit from Bordeaux in India or elsewhere, you can write to him at salvi@indianwineacademy.com and he will tell you like it is!
Subhash Arora