If Paul John of Chateau de Banyan were the filmy Producer of 'Big B Wines of Bangalore', Lucio Matricardi would certainly be labelled as the Italian Director. He is the man who orchestrates the grapes and makes then perform to his specifications and criteria, in the barrel and the bottle.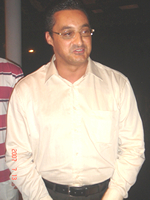 I had the pleasure of meeting Lucio in the serene surroundings of backwaters of Kochi a couple of weeks ago. At the beautiful Kumarakom Lake Resort, owned by Paul, the Big Banyan wines even tasted better, reinforcing my theory that the environment in which wine is drunk has a big bearing on the total enjoyment.
At first glance, Lucio with his rimmed glasses looks like a college wine professor. Well, as it turned out, he actually is. With a PhD from the UC Davies, he also teaches and consults with the University of Milan, among many other clients as an enologist.
If you ever planned to do a thesis in the oak characteristics of barrels he would not only tell you the 'Influence of Toasting Technique on Colour and Ellagitannins of Oak Wood in Barrel Making' but also a better technique of making the barrels so they last longer. The research he did on making the temperature controlled barrels increases their life span by about 3 years-resulting on significant cost savings..
He could even discuss with you 'the effects of high hydrostatic pressure processing and of glucose oxidase-catalase addition on the colour stability and sensorial score of grape juice'.
Born in a farming family in the province of Marche- he claims his mother cooks the best home made pasta with eggs, the 38 year young 'Professor' studied in the agricultural science school in Bologna under the famous Prof. Aureliano Amati, specialising in wine and vine. His thesis was on an interesting subject-Pascalisation of wine: killing of enzymes at a pressure of 10,000-50,000 atmospheric bars! Pretty technical stuff, eh?
He went to University of California , Davies for his Ph.D., where his specialisation was wine biotechnology with focus on oak seasoning for wine barrels.
'There had been no control on the seasoning of wood and the toasting was done at temperatures estimated at 140-150 ° C. My specialisation was in Pyrolysis which has been now introduced in many places,' says Lucio.
Lucio worked for 5 years in Castello Banfi where he was responsible for new products, research and wine marketing promotion. He also had a brief stint of 8 months with the boutique Miranda winery in Barossa Valley, South Australia. He has since been working as a winemaker in charge of wine production at Mezzacorona, one of the biggest co-operative wineries in Trentino.

Here are the excerpts from my chat with him over glasses of Big Banyan wines:
How does it feel working for the titan of Italian wineries after working with a relatively small winery
There are many positives in a big winery. For instance, in Banfi it was always a matter of producing powerful wines that would get good Parker ratings. At Mezzacorona, we do not aspire to go for those ratings and like to bring out the best value for money wines for our customers.
But don't they use high yielding, cheaper grapes lower in quality
Not true. We buy the best possible grapes from our growers and even pay premium prices at times. We save money because of our volumes and the technology we have adopted.
Technologies like machine harvest, for instance?
This is a perfect example of how technology actually helps us in picking quality grapes. At Banfi where the grapes are handpicked, the picker could also cut the bunch off even when the grapes are not ready because he is a daily wager and may not understand grapes. A mechanical harvester only jolts only those bunches out of the vine that are ready to pick. So, if a bunch is not ready to harvest, it would not fall off the vine.
Mezzacorona reminds me of a great autochthonous Trentino grape varietal which I tasted there last year- interesting, spicy wine that should do well here.
I totally agree. It is typical from this region and is now getting very popular internationally. The price is also fairly reasonable and gives a great value for money.
Talking of India, are you selling Mezzacorona wines in India?
Not yet but we have already talked with Chateau de Banyan who have shown a great interest in importing our wines- Sauvignon, Pinot Grigio, Rose, Toreldego and Rotari Spumante being very popular options for the Indian market.
How did you connect with India?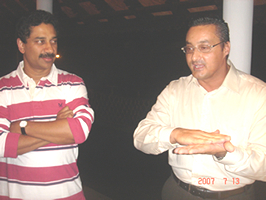 During one of my trips to India I met Paul John of Chateau de Banyan. He was thinking of making quality wines in India and was looking for some help. University of Milan is where I am a consulting winemaker and Luca Toninato is a viticulture specialist. We decided to take it up as a University project and started working with him and his winery in Goa.
What is your role in the making of Big Banyan wines?
The brief given to me has been to get Paul the best possible wines from the grapes purchased from the existing vineyards and of course, to help him with the selection of the right land and selecting the optimum varietals. We should be coming out with wine made from our own grapes from 2009 vintage.
Page 1 2

Page 1 2