Chateau d'Ori is one of the new wine producers of India in Dindori, near Nashik .To get a glimpse of what was inside the vineyards and the minds of its Chairman, Ranjit Dhuru, Subhash Arora took time out recently to spend a couple of days with him.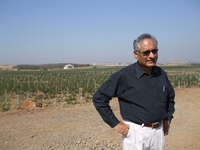 Ranjit Dhuru with the vineyard and guest house in the background
Waiting for Dhuru at the Mumbai airport that fateful morning, I glanced at TV18 blasting away the Breaking News. Stock market bulls had been crushed with the BSE going South 2035 points. The other headline news was about 38 bus passengers who had died near Nashik in a crash. The one-hour delay caused by the late departure of Kingfisher Airlines flight in Delhi due to the airport closure because of Republic Day rehearsals was a minor irritant, in front of this depressing news.
I was waiting for Dhuru to pick me up to go to Nashik. What a day of crushes and crashes I had chosen to visit his vineyards and winery at Dindori, in the 'wine capital', I thought to myself!'
Before I could reflect on the millions I would have lost (hopefully on paper) during the morning flight of an hour and fifty minutes, Ranjit Dhuru arrived in his Rs. 55 lakh ( $140,000) beautiful, blue Touareg SUV from Volkswagen and I felt slightly reassured. Proud of his acquisition, he did confess to me having almost bought a Tata Safari because of its performance. He had chanced across the Touareg which was a bit expensive (about 6 times!) but had stolen his heart and he had bought it a couple of years ago.
The journey to Nashik takes around 3.5 hours-at least on paper. The endless city traffic in Mumbai can add an hour or two-or three, to that time. Ranjit did seem excited about the fact that Laloo Yadav (our railway minister of Harvard fame) was proposing a TGV style train to Nashik, which would cut down the travel time to an unbelievable 1.5 hours. Add 2 hours to reach the station from the airport and you would get a clearer picture of Mumbai traffic.
Our journey was very pleasant with Ranjit sharing his thoughts about the Sauvignon Blanc crush which might be a few days earlier than the usual Feb beginning or the middle. He was being disturbed perennially by phone calls- the non-wine world around him seemed to be more concerned with the stock market crash, right now.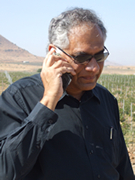 'Don't worry, the crash is temporary' says Dhuru to an investor in his IT company.
Ranjit Dhuru is a lawyer by profession and the Chairman of a well-known public limited and traded IT company, Aftek, which he founded in 1986 and took to $100 million size, employing over a thousand employees, the majority being in their working office in Pune. The news had apparently permeated that his stock had also gone southwards along with BSE and was making fund managers across the globe who had holdings in his company rather nervous.
But he was cheerful enough to talk of his passion – wine and the indigenous production.
Bordeaux Snob
To the un-initiated, Ranjit might come across as a Bordeaux snob. Right from the name of his import label-Chateau d'Ori to his imported wines, his personal taste of wines and his wine purchases and collections- he has been a serious En Primeur buyer his preference for Bordeaux sticks out like a sore thumb.
He even chose a French winemaker of Greek descent, Anthony Fakorellis from Bordeaux when he decided to give shape to his passion and decided to set up a winery and convert land he had bought into vineyards, four years ago.
He took this time to import and sell 8 labels of wine, all from Bordeaux left and the right banks including Graves, Pauillac, St. Emilion and Pomerol. It is no mean achievement that during the last 4 years he carved a niche of about 5000 cases market , especially as he concentrated on Maharashtra and primarily the Mumbai market.
He got slightly disturbed when I asked him why he had chosen a typically Bordeaux name for his label and winery. 'What is wrong in that?' he retorted. 'Aren't we addressing grapes like Sauvignon Blanc and Cabernet Sauvignon by their French names? Besides, there are so many wineries in the world who use French names.
The genesis
It is not that Ranjit is blindly in love with Bordeaux or France. 'During the course of business we had bought an IT company in Munich and I used to travel a lot to Europe and the US on business and where I started enjoying wines,' he told me. He also started visiting several wineries. It really hit him during a visit to Opus One winery in Napa valley when the winemaker proudly told him that Mondavi had a tie up with Rothschild in Bordeaux to make this excellent wine.
He reasoned, if even Mondavi would go thousands of miles to Bordeaux to make a quality wine, why not go to the basic source. He started frequenting it and went to several tastings for En Primeur too. In the process, he collected wines like Angelus, d'Yquem, Cheval Blanc, Pontet Canet, Domaine de Chevalier.
During his visits, he had met a French negociant, Ivan Cruse, who helped him along and rest is history.